The multivariable transmitter 266JRT / 266JRH with remote diaphragm seals is able, thanks to multisensor technology, to measure differential pressure, absolute pressure and temperature of liquid, vapour and gas. Temperature is measured via an external RTD.
Data
Base accuracy: ± 0.04 %(266JRT) , ± 0.075 %(266JRH)
Reduced process penetrations save money and reduce the risk of leakage
High static working pressure option (41 MPa, 6000 psi) for power plants, pipelines or oil and gas production
Local operation with LCD with TTG (Through The Glass) technology without the need of opening the housing
Exchangeable electronics with automatic configuration capability
Flexible process connections and high selection of corrosion resistant material due to all welded diaphragm seals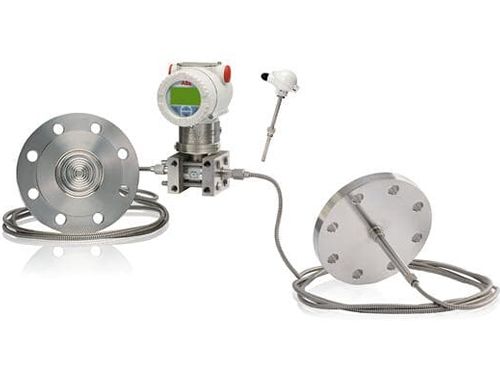 Models 266JRH and 266JRT for differential pressure, absolute pressure, and process temperature may be designed with either two remote seals of the same type and size or with one remote seal (on the high pressure (H) or low pressure (L) side) plus a standard process flange with threaded connection. In this case, the threaded connection (1/4-18 NPT or 1/2- 14 NPT using adapter) is for the fluid-filled or gas-filled impulse line on the side opposite to the diaphragm seal.